Automation – Making Life Easier with Motorised Roller Blinds
Looking for convenience and ease of use? Motorised roller blinds mean that you can bring the outdoors in (or block it out) with either the touch of a button or the use of state-of-the-art sensor technology. This kind of next-level thinking and design means that your motorised roller indoor or outdoor blinds will assist in lifting your home into the upper echelons of design and style.
Automated Blinds for Brisbane, Logan, Gold Coast and Surrounds
Automated blinds and awnings allow you to make the most of your home by keeping it warmer in winter and cooler in summer. The automation technology involved increases the liveability (and property value) of your home by allowing you to have more control over both aesthetics and temperature. These products also help to protect your home from would-be intruders looking for an opportunistic entry – the automation feature will give your home the appearance of being occupied year-round.
Blinds Plus Awnings and Shutters proudly present a wide range of motorised roller blind products.
Automated Awnings from Blinds Plus Awnings and Shutters
Eolis Wind Sensor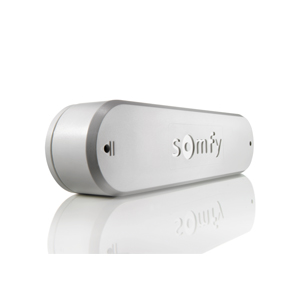 When looking for motorised outdoor blinds, awnings are an excellent solution. The Eolis Wind Sensor is battery powered and wireless, meaning you can retract your awning based on wind levels. Automatic retraction during high wind will prevent damage to your system, even if you're not home! This machinery detects horizontal, vertical and lateral movement via threshold setting. It offers high performance, convenience and all the worry-less freedom that comes with a wireless solution.
Sunis External Sun Sensor
If you are considering motorised outdoor blinds, consider these awnings as a stellar option, perfectly designed to protect your outdoor furniture as well as your windows and doors. This system is completely autonomous and can also be used via wireless control. You can easily deactivate the system if and when required. It's battery-free, using a photovoltaic cell to power it up. Every hour, a failsafe signal is sent to the awning to tell it to retract if the sensor is not functioning properly. This is a fantastic option for those looking for ease of use and convenience.
Soliris Sun and Wind Sensor
This little beauty automatically controls your motorised outdoor products based on current weather conditions – meaning it's perfect for those who'd like to 'set and forget.' When powerful winds are blowing, the awning automatically retracts in order to protect it from damage. This system can communicate with multiple awnings via wireless technology, making it a convenient and reliable solution. Installation is quick and easy – and it can be installed after the original awning has been constructed.
Remotes for Motorised Outdoor Blinds and Awnings
Situo
The Situo range covers 1, 2 and 5 channels, making it an ideal solution to monitor and use several motors at once. It's slick, it's modern and it's refined; adding a touch of style and class to your home décor. You can keep track of your favourite positions and choose them immediately via the 'my' button. You can purchase the Situo in pure, rose gold, silver or gold.
Smoove Wireless Wall Remote
The Smoove® Wireless Wall Remote operates via a single channel, battery-operated wall switch for powering blinds coverings. The design is surface mounted which eliminates the need to cut into drywall – meaning no electrician visit is required! The Smoove® can be moved from room to room to fit into your design scheme. You can choose from a range of decorative frames (black, silver matte, light bamboo, walnut, cherry and amber bamboo) to seamlessly blend into your decor. The wall switch is incredibly easy to install and use. There is a low battery indicator that will ensure your unit is always primed and ready to go. You can set your favourite positions via intuitive and state-of-the-art design.
Smart Home
Connexoon
Using smart blinds and awnings? This home automation system is your solution in terms of app control. It's simple, intuitive, smart and playful – perfect for the modern family. The Connexoon is the way to control your motorised outdoor blinds and awnings via your mobile device or from anywhere in your home. There are 30 channels for control of up to 30 individual or 30 groups of window coverings designed for ultimate convenience. You can use third party voice assistants like Google Home to trigger the system using voice commands or pre-set automations.
Ready to lift the comfort factor in your home? Let's talk motorised blinds and awnings today. Call Blinds Plus Awnings and Shutters on 07 3287 9181 to talk solutions in Brisbane, Gold Coast, Logan and Ipswich.