BERMUDA ALUMINIUM SHUTTERS – PLANTATION SHUTTERS FOR BRISBANE WEATHER
Our Bermuda Aluminium shutters will have you gazing at your windows, not out of them. You'll love the opulent look and feel so much, you'll never take your eyes off them! Inspired by the "so hot right now" Caribbean and Hamptons style, Bermuda plantation shutters are the must-have indoor and outdoor window style.  They're the perfect complement to tasteful interior decor, to lovely wide cornices, to bright whites, soft blues and even a little coastal chic.  When you invest in plantation shutters with Blinds Plus Awnings, you're investing in quality, Bermuda aluminium shutters that don't warp or weather badly.  We've been creating beautiful new looks for homes across Queensland for decades, so we can offer the advice, the detail and the expertise you need to achieve that flawless Hamptons finish.  Don't risk inferior shutters or inferior installation.  That's just not how it's done in the Hamptons.
Can't decide between these tough but beautiful aluminium shutters, our opulent Vogue Polysatin Shutters and our durable indoor PVC shutters?  That's why we're here.
We'll help you make the very best choice for your living space.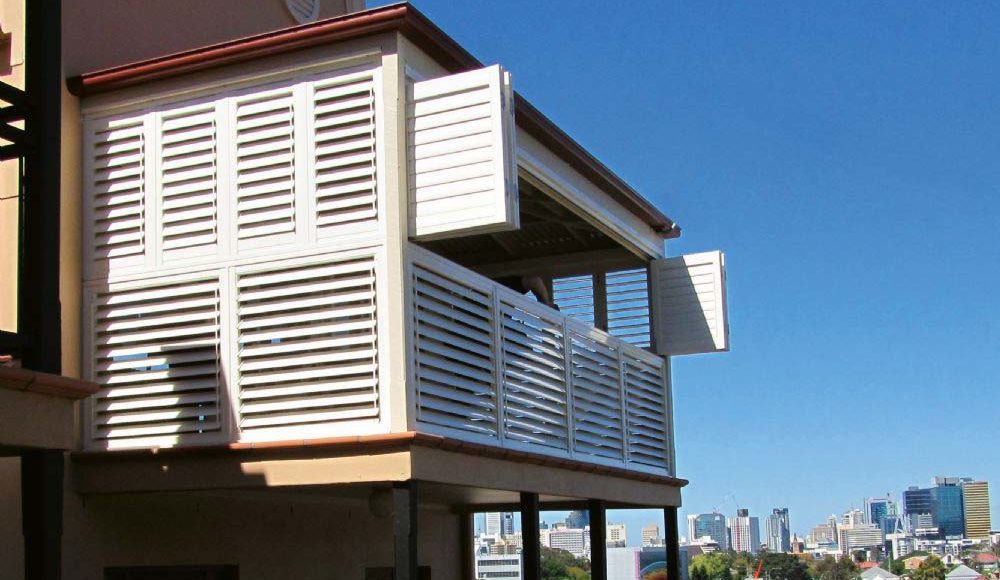 Shutters that are an investment in your home
Will your new shutters weather the Brisbane weather?  We bring you aluminium shutters designed to maintain their "wow factor" look, in the harsh Queensland sun, in droughts, and flooding rains.  Renovating? Modernise or refresh with these "on point" Bermuda shutters.  Plantation style shutters will always add a touch of luxury to your home.  They're not only just a little decadent, but they're an excellent investment in additional security.  Update your street appeal, update your security and update how you look at your windows!
We believe that your new shutters should be an investment in your home – that pays off! That Hamptons look is adding big dollars to the sales price right now, and our highest quality Bermuda aluminium shutters will create buyer love right now, or when you're ready to sell.  Our reputation for quality products and installation means you can feel confident that your beautiful new shutters will weather…the weather.
About your new plantation shutters
Create and control with the Bermuda 2000 Series aluminium shutters. The Bermuda 2000 Series has been designed as a modern, functional shutter which is aesthetically appealing for both exterior and interior use. Using only the highest quality of finishes, which is backed by a 7 year warranty on the main components and a 5 year warranty on hardware, the Bermuda 2000 Series will bring maintenance-free durability and style to your home, office, or commercial environment. With Bermuda 2000 Series you can also open or close blades for your comfort.
THE CHOICE IS YOURS:
Standard stock colours and custom colour range.
60mm, 90mm & 115mm blade options.
Slide, bifold, hinge or fixed.
Lockable.
Cyclone rated option available.
Fully fly screenable.
Off the wall mounting systems.
Imported range available.
Download the brochure: