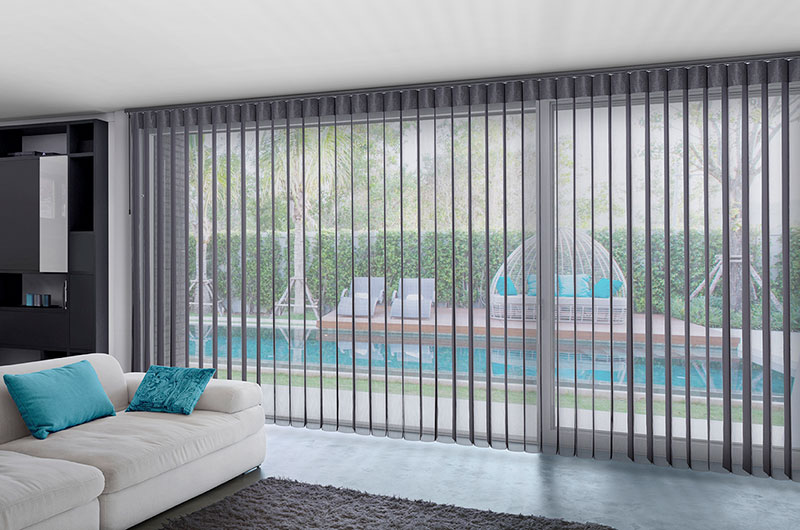 A contemporary take on a classic window covering, Veri Shades® combines the versatility of a vertical blind with the elegant appeal of a soft window furnishing. Featuring the premium edge vertical track system and soft Veri Shades® fabric, the new Veri Shades® collection provides the perfect balance of style, durability and child safety features to complement any home interior style and living needs.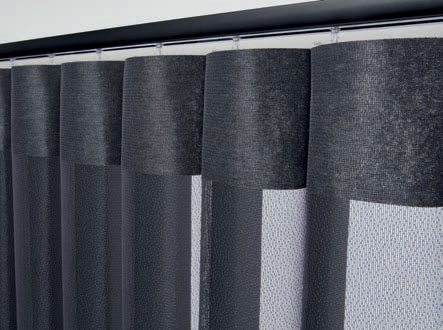 Unique Design
Individually curved fabric vanes feature an alternating light filtering and room darkening fabric panel. Simply turn the fabric vanes for sheer light control or total privacy. .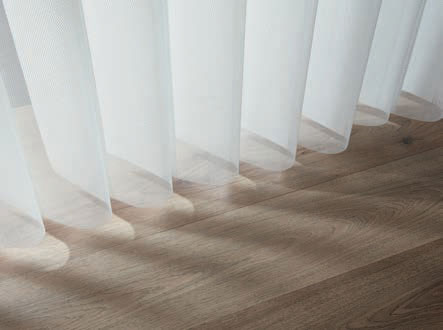 Child Safe
Designed with child safety in mind, Veri Shades® fabric has no connecting bottom chains or weights, providing a safer home environment for children and pets.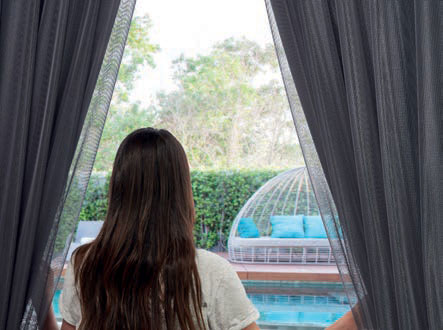 Functional Living
For seamless indoor-outdoor living, conveniently walk through the individual fabric vanes whether they are opened or closed.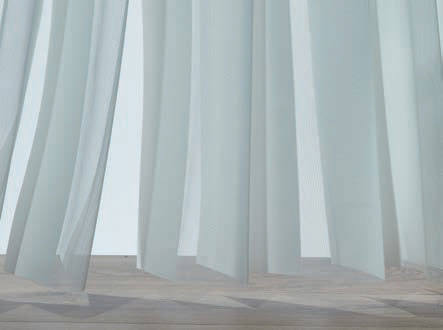 Easy Breezy
Free from noisy connecting chains and bottom weights, Veri Shades® operates quietly and softly settles back into position.
Edge Track
Featuring the Australian designed and developed edge Vertical System, Veri Shades® offers a premium hardware and operating system for ultimate performance, durability and smooth control. Available with two operating options: Chain and Cord or Traversing Wand, Veri Shades® fabric can be easily tilted with option to stack to the left, right or split stack for an unobstructed view.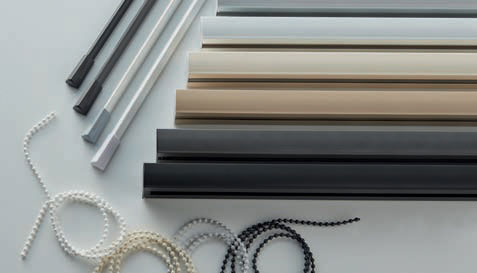 Uniform Appearance
Seamless colour coordination between fabric and hardware for a cohesive interior look. The modern headrail design is available in 6 matching colours (anodised, white, birch white, stoney beige, gunmetal and black).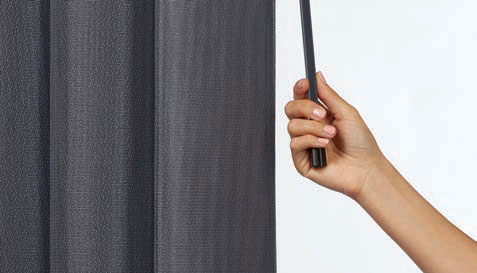 Traversing Wand Operation
Designed with child safety in mind, Veri Shades® fabric has no connecting bottom chains or weights, providing a safer home environment for children and pets.
Total Light Control
Take advantage of beautiful light control with Veri Shades®. The soft vertical fabric provides daytime privacy whilst allowing a soft view through. Easily adjust the level of privacy and light to suit your requirements by rotating the fabric vanes halfway. To block light, close the shades completely.
Durable Qualities
Made from 100% polyester, Veri Shades® fabric offers durable properties such as fade resistance and Ultra Violet (UV) protection to help preserve the fabric
and home furnishings from fading.
Easy Maintenance
With dirt and dust resistant properties, maintenance is made easy. Simply dust, spot clean or gently detach Veri Shades®
fabric vanes from the track to hand wash.

Features & Benefits
Opacity
Featuring alternating opacity fabric folds: light filtering when opened or room darkening when closed.
Colour Range
Standard and Net range are available in 6 contemporary
colours.
Dirt Resistant
Treated to effectively repel dust and grime for easy maintenance.
Fade Resistant
All colours meet Australian Standards for colour fastness to resist fading (AS2001.4.21).
UV Protection
UV stabilised fabric material features an U
ltraviolet Protection Factor (UPF) of 50+.
5 Year Warranty
Enjoy total piece of mind with a 5 year warranty

Technical Specifications

Composition
100% Polyester Woven Fabric
Colour Fastness
7-8 Blue Scale
Fabric Weight
268 g/m²
Fabric Thickness
0.80 mm

Care and Cleaning
Dusting 
Surface dust can be easily removed using a clean soft brush or feather duster.
Spot cleaning 
To remove dirt and grime, simply wipe the fabric blades with a sponge soaked in lukewarm water. If marks are still visible, add a little mild detergent and gently dry with a clean cloth.
Hand wash         
Veri Shades® fabric can be lightly hand washed and dried, and can also be ironed with a cool iron or steamed to remove creases.