Ziptrak Interior Translucent and Blockout Blinds
Blinds Plus Awnings And Shutters is proud to bring world-class Ziptrak blockout blinds to Queensland.  Only Ziptrak goes beyond the standard roller blockout blinds to provide superior light blocking – complete darkness.  No cracks.  No glare.  Nothing to keep your family, including your newborn, from a deep, long sleep. The standard roller blockout blinds promise complete opaque fabric, but they don't block "light spills" around the edges – creating bright, sleep-disrupting gaps.  Why pay for blockout blinds that don't actually do the full job, when Ziptrak Interior is now available in Queensland.
Ziptrak Interior's unique "encasement" means that there are no gaps.
Ziptrak's tough, made to last fabric is 100% opaque
It's the top choice with interior decorators because of its stylish good looks and on-trend colours
Its specially crafted roller system means one-touch operation.
Create a barrier between your blind and your window to keep the heat and noise out.
Reduce cooling costs with Ziptrak's unique "air leak prevention" design
Designed and made in Australia for Australia's harsh sun.
Ziptrak Interior and Blinds Plus Awnings and Shutters.  The Ultimate Team to Turn Down the Sun!
Introducing Ziptrak® Interior blockout blinds. A revolutionary advance for interior blinds – whether you are blocking out light, bugs or the weather, Australian company Ziptrak offers industrial quality for home – which means you keep that "new blind feel" for the life of your blinds. The key to perfect blockout blinds?  Quality products, professionally fitted.  With over fifty years combined experience fitting blockout blinds in Brisbane, Gold Coast, Ipswich and Logan, our team has your sleep in covered!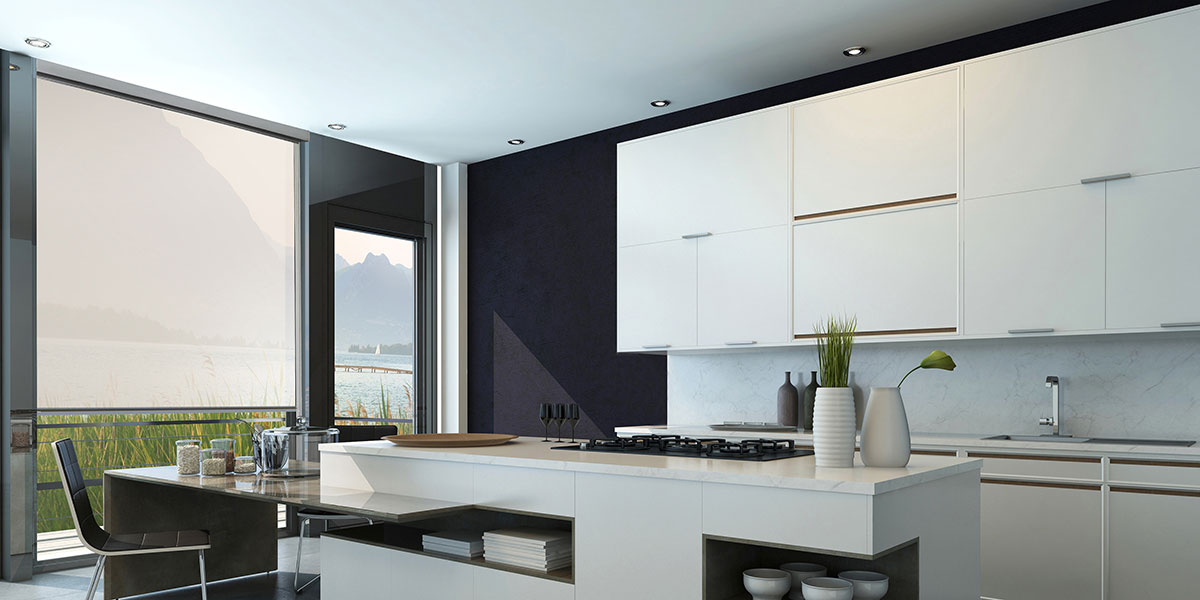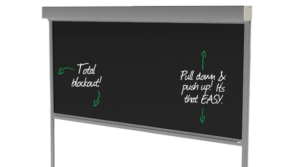 Blockout blinds specially designed to keep the sun at bay, every day
Following years of research, Ziptrak® is pleased to present a fresh approach to interior window furnishings. Ziptrak® Interior Blinds are designed for demanding, frequent use; made with industrial-grade componentry.  Use it, all day, every day with Ziptrak quality manufacturing. Ziptrak is an Australian company, working with the harsh Australian environment.  Your blinds are designed for your environment and installed for maximum longevity.
Invest in the safest, most durable and easy to use internal blind. Ziptrak is the result of extensive R&D.  Built for durability and ease of use you can adjust your blinds with a single touch, without dangerous and unsightly cords.   The Ziptrak system uses innovative guides to make a superior product.  We know, blind design isn't really anyone's cup of tea, except ours.  As "blinds nerds" (this is a thing) we're incredibly excited about the innovative way that Ziptrak has overcome the usual problems with blockout blinds.  Blockout blinds are a big challenge in our industry, and this design is game-changing.
Industrial strength doesn't mean industry look
Nobody wants their new blinds to look… industrial.  Ziptrak is all substance, with style.  It's easy and simple to match or complement your existing window frame and décor with an extensive range of customisations and colours available with Ziptrak® Interior.  Whether you want full blockout blinds for the nursery or interior blinds that let in the light, not the glare, Ziptrak comes in the right colour and right light filtration level for your home.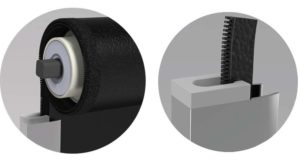 Commercial Grade
How do you make blinds look great for longer? With durable componentry designed for frequent use.  You use your blinds all day, every day.  That's why Blinds Plus Awnings always puts quality first.  Ziptrak's tough track system guarantees your blinds stand up to the roughest treatment – even if you're investing in blockout blinds for clumsy kids – or tired, shift working partners.   Built with longevity in mind, Ziptrak means you avoid costly repairs or replacement.  Perfect for landlords!   There's simply nothing to get caught, jammed, knotted or frayed.  They simply work.
Why Ziptrak?
Ziptrak® Interior will change what you expect from a blind. With one effortless glide, you can control light, airflow and insects. No more heavy blinds and curtains, covered in dust, with flimsy cords to pull.  Ziptrak technology is different.  It's not just better, it's a complete upgrade to how blockout blinds and partially opaque blinds work.  The track system means that there is simply no way to sacrifice the quality of your light control.  As the user, that means you simply enjoy your room, just as you want it.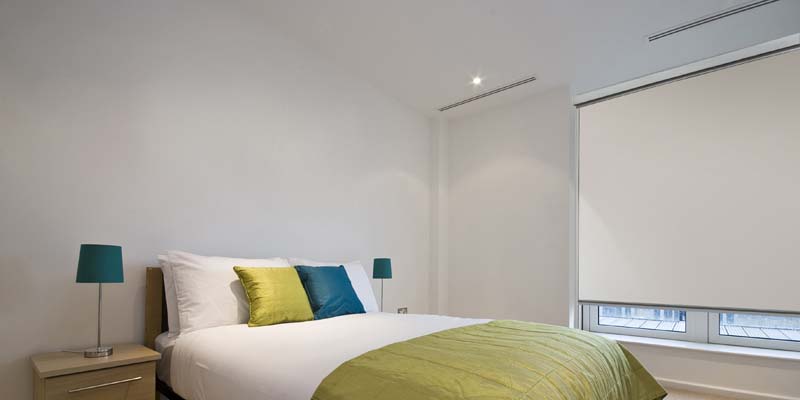 Ziptrak Bedroom Blinds
Precious sleep. Whether its your weekend or those precious moments your baby sleeps, Ziptrak offers protection from heat and cold, reduces outdoor noise and blocks all light. Ideal for a good night's sleep. No other blind blocks out light better than Ziptrak® Interior and nobody fits them better than Blinds Plus Awnings, Brisbane. The track guided system secures the blind material within vertical tracks, preventing light from entering through gaps. The slim and discreet system with exceptional finishes is worthy of its presence within your home.

Family Friendly
Our patented spring balanced system allows you to leave the blind at any height, without the need for cords or chains. For peace of mind and to safeguard against potential hazards, Ziptrak® Interior is a clear choice.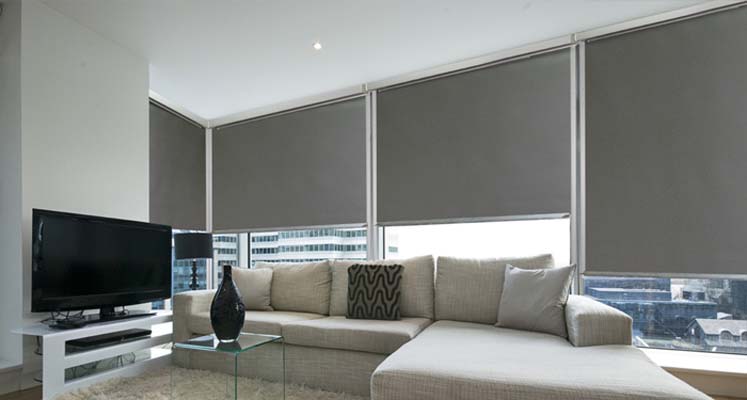 Apartments
Ziptrak® Interior offers best in class insulation for large windows. The track guided system provides an air pocket between the glass and blind which significantly enhances insulation performance. Some materials also include a reflective backing in order to bounce direct sunlight back outside

Living Room and Media Room Blinds
Nothing ruins a blockbuster experience like glare. Ziptrak Interior Blinds let you immerse yourself in that high definition, surround sound experience. Quickly transform your home cinema, living or media room into a lightproof space, ready for a spontaneous movie afternoon! Ziptrak® Interior blinds block light like no other blind, due to the track guided design that does not allow light to seep through the gaps that other blinds have on each side.
Perfect Blinds for a Home Office
Log into your next team meeting feeling confident that glare and the neighbour's dog won't interrupt. Reduce ambient street noise and take control of your camera lighting to deliver professional webinars and online meetings with Ziptrak Interior.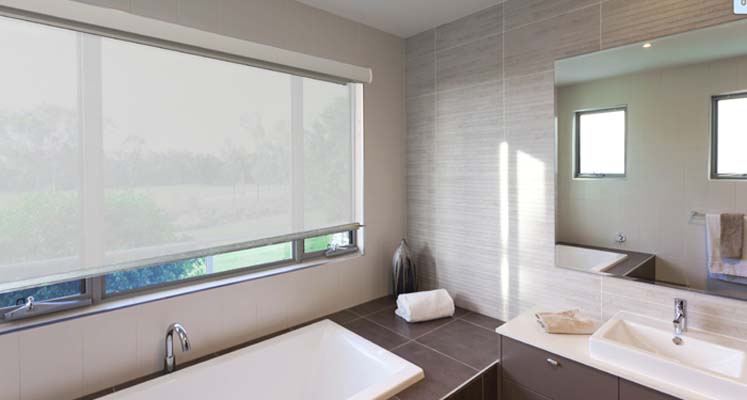 Track Guided
The fabric edge is locked into small side tracks to ensure there is no gap which allows wind, light or insects to enter the space. By creating a sealed surface between a window and the blind, your area will stay the temperature you want it and free from unwanted visitors.  Take control of heat, light and bugs with superior installation from Blinds Plus Awnings.

Stop at any Height
The blind is easy to operate; a light downwards push of the blinds bottom bar will lower the blind. Release your grip and the blind will stop at any desired height, due to the spring balanced system. Spring-loaded blinds can be startling and troublesome with automatic retraction – these blockout blinds are designed for simple and effortless use; if only everything at home was this easy.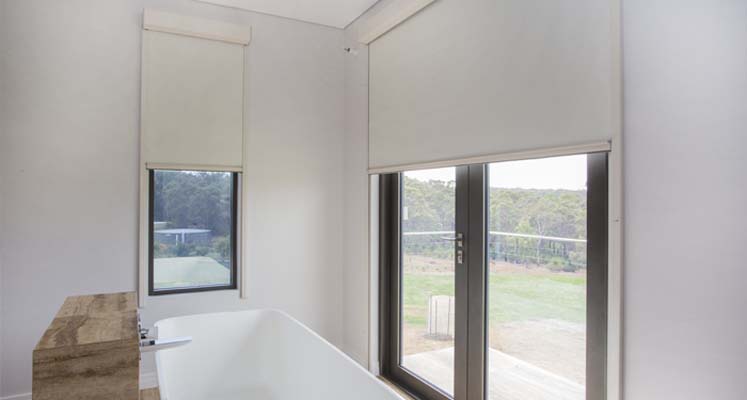 Open or Close your Blockout Blinds in Seconds
Avoid frustration and stop wasting time with chains and cords. Ziptrak® blinds allow you to easily lower or raise the entire blind in seconds at the touch of a finger. Our spring balanced system is a revolutionary advance for interior blinds.

Let in the View or Block Out the Neighbours!
If you're seeking total block out for a home cinema room, bedroom or conference facility, the Ziptrak® Interior system is a perfect choice. Since the fabrics sit within a side track, there are no light gaps present at either side or the bottom of the blind, unlike most types of blinds. Light and translucent or heavy and block out the choice is yours. The Ziptrak® Interior system provides total control over the light you wish the enter space by selecting from a range of fabric opacities. You can choose a fabric that provides total block out, or an open weave translucent fabric which minimises glare and offers privacy but still allows you to enjoy the view.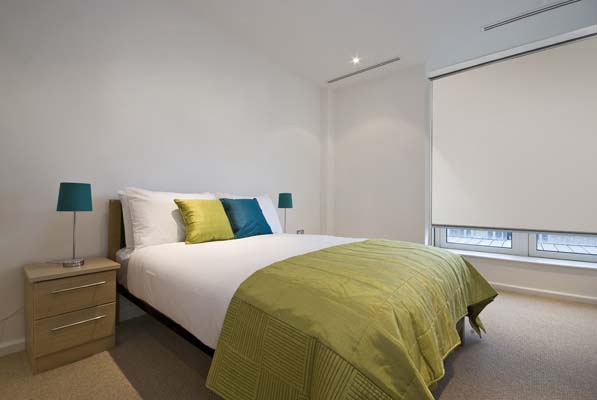 Lightweight, simple operation
Blind can stop and stay in any position, meaning users can easily control the blind without prior experience. The system is child-friendly, void of tangling cords and chains. The patented spring system takes the weight of the rail and material off the user's arm, allowing effortless glide with a single finger.

Sealed Solution
Ziptrak® Interior blinds operate within tracks that are installed into both sides of your window frame. That means you're not going to struggle with blind movement and sudden, sleep-disturbing light.  Stop being at the mercy of every little breeze.  Stop having your sleep schedule ruined by the harsh sunlight.  The result is best in class insulation as air is not allowed to freely flow around the sides of the blind. Unlike other blinds, Ziptrak® Interior creates an air pocket effectively reducing your energy bills.

Leave down Over Open Window
Leave the windows open, bring in the breeze but not the mozzies!  Ziptrak's superior fabric means you can let in those summer breezes without sacrificing privacy.  Perfect for apartments, or nosy neighbours, you can simply open the windows but close the blinds!  Ziptrak's unique design means that letting in a breeze doesn't mean listening to the blinds flapping about – because everything Ziptrak does is about making your home perfectly livable.

System Colour
The slimline track, bottom bar, and pelmet are all powder coated to your colour of choice. There are four standard colours available, whilst you can also customise to any conceivable colour. The result is a high quality, smooth finish that looks great next to your window frame.  Ziptrak® Interior track guided blinds can hold a wide range of fabrics. Depending on your specific requirements, there will be several material options available that each have different advantages. Your retailer will have an extensive selection for you to choose from.
Motorisation
Motorisation is perfect for larger blinds or blinds in hard to reach locations. With the touch of a button, the blind can be opened and closed, operating on either household or solar power. The motor is hidden within the pelmet and looks no different to a non motorised blind. With one touch, you can stop the blind at any height, whilst the system provides a quiet, secure and smooth glide.

Bottom Bar Skirt
A brush is installed into the base of the bottom bar, allowing a flush finish with the bottom of the window sill. This protects the window sill surface from damage due to rough use of the blind system but also ensures a high degree of light block out. For added protection, especially when the window sill is not square/level, the bottom bar can slide into a bottom channel. This provides complete light block out.

Total light and privacy control
Provide your guests, clients, staff, students or patients the privacy and control they deserve. The Ziptrak® track guided system does not allow light to creep in from the edges of the window, providing complete block out when required.
Remarkable Insulation
Up to 40% of a room's heating energy can be lost through windows in winter. Even more frightening is that in summer, up to 87% of its heat gained through windows. Ziptrak® Interior blinds are uniquely qualified to dramatically reduce these figures with the track guided system. Spend less money heating and cooling your space and enjoy a more comfortable life indoors.
Ziptrak Blinds Brisbane: Professional installation matters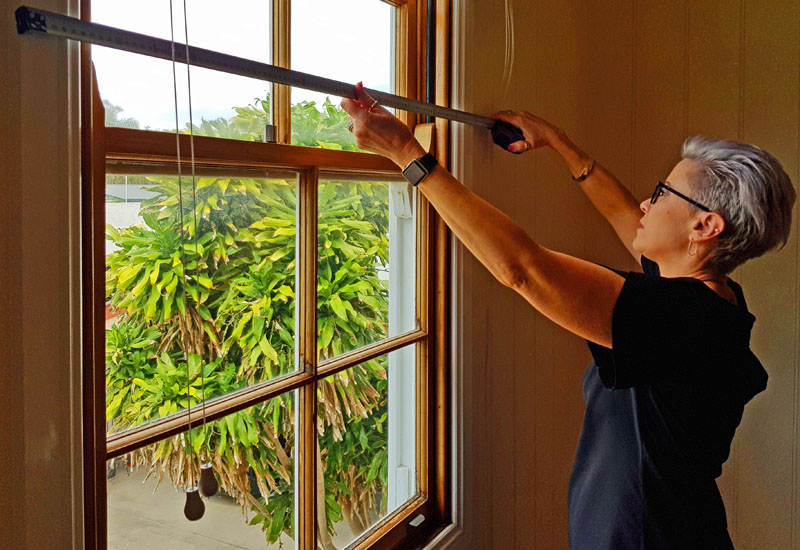 Your Ziptrak Blinds are only as good as their installer. Blinds Plus Awnings partner with Ziptrak to ensure maximum functionality and designer style. Our family have been Brisbane based blinds and awning fitters for decades. Our team of local fitters are pros and we're always delighted to help create the perfect finished product in your home.
Download the brochure: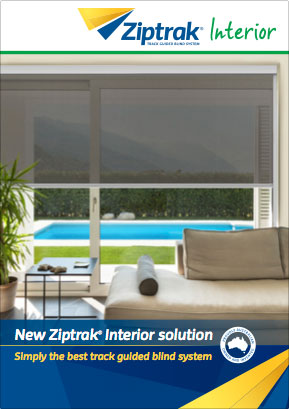 See All Our Blinds Options:
Vertical Blinds | Verishade Blinds | Venetian Blinds |  Roller Blinds | Panel Glide Blinds