Indoor VS Outdoor Shutters – How to Make the Right Choice for Your Home
The decision to purchase either indoor or outdoor shutters raises a number of questions and concerns for the savvy would-be purchaser. There are significant questions to do with style, privacy, usability and saleability if the house is to be sold in the near future. All of us want our homes to not only look but feel their best, which begs the question… 
Do we get indoor shutters? Do we get outdoor shutters? And why is that of concern?  
The Case for Indoor Shutters (and it's a good one)
Nothing pulls a room together quite like gorgeous indoor shutters. They are stylish, convenient, easy to clean and oh-so-effortlessly beautiful. They're chic, they're on trend and they're on the way to making your wonderful house a home.  
Indoor shutters give you the ability to open a space up or close it off, depending on need. They're functional and fit to please even the crankiest consumer. The Hamptons trend does not look like it's going anywhere any time yet and interior shutters allow you to tap into that trend and get your home looking beachy at the drop of a hat (or the flick of a shutter).  
Outdoor Shutters – We Rest Our Case
Ever felt like you were on display in your own home, like all and sundry were taking part in your lazy afternoon on the deck?  An exposed verandah can be an open invitation to passersby to take stock of your home and belongings.  If privacy is important to you, you cannot go past exterior shutters.  While they are not security screens, outdoor shutters do deter prying eyes and offer privacy for your personal space and belongings, while still allowing breezes through the home.   The functionality of outdoor shutters is hard to beat. Coming in sliding, bi-fold, hinged or fixed options they can be configured to suit the way you use your home.  As an added benefit, plantation shutters are fully fly screenable – so you can enjoy your outdoor space in comfort.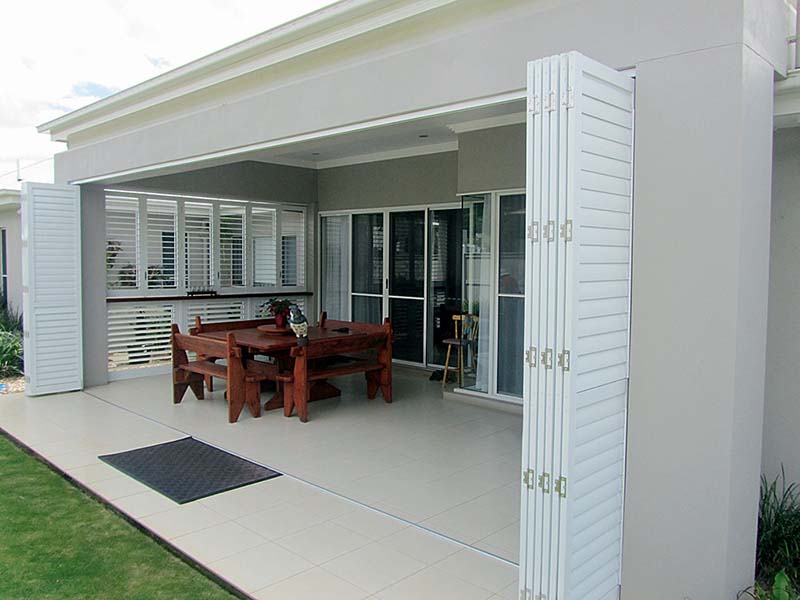 All of that aside, exterior shutters offer a sense of style and finish to the exterior of house that you just cannot walk past. Opulent in design and off the charts in useability, these beautiful pieces of manufacturing gift your home with not only gorgeous outlooks but the ultimate in the indoor/outdoor living experience as well. Imagine being able to open up your home to the elements and then, just as easily, tuck it away again when the weather gets tough. Blur the line between indoor and outdoor living with aluminium outdoor shutters that are built to withstand Queensland weather and offer a clean and classic aesthetic that will stand the test of time.
Interior or Exterior Shutters? Which and Why?
It's hard to make a choice on your own. You're only looking at images on a page trying to imagine how they would look in your home. 
The team at Blinds Plus Awnings & Shutters have decades upon decades of experience in the industry. We offer obligation free quote where we come and talk to you about what will best suit your home. We custom build each of our shutter products to best suit your needs. We're not a 'one size fits all' company nor do we trade in internationally sourced products. We're home grown and we're here to stay. 
Give Blinds Plus Awnings & Shutters a call today and let's determine your best fit – indoor or outdoor shutters.