The straight drop versus pivot arm awnings debate is one you will come across when choosing the right awning for your property.  
You're spoiled for choice when choosing your awnings from Blinds Plus Awnings. Our professionally fitted awnings add value, style and protection to your home. The design choice will depend on the style of your home, the opening size and the purpose of the awning.  
Different awnings will suit some openings and home styles better than others. The two most common choices are the straight drop or pivot arm awnings. Both are ideal for South East Queensland homes, but their applications will differ depending on the size of the openings and exterior style of the property.  
Let's explore the difference between straight drop and pivot arm awnings. Knowing the purpose of each style will help in choosing the right awning for your property.  
What is a straight drop awning?
A straight drop awning is exactly as it sounds; an awning which drops from the ceiling, straight down to the floor.  
Depending on the chosen installation style, straight drop awnings offer versatility in stopping the awning at varying heights to allow light and air in.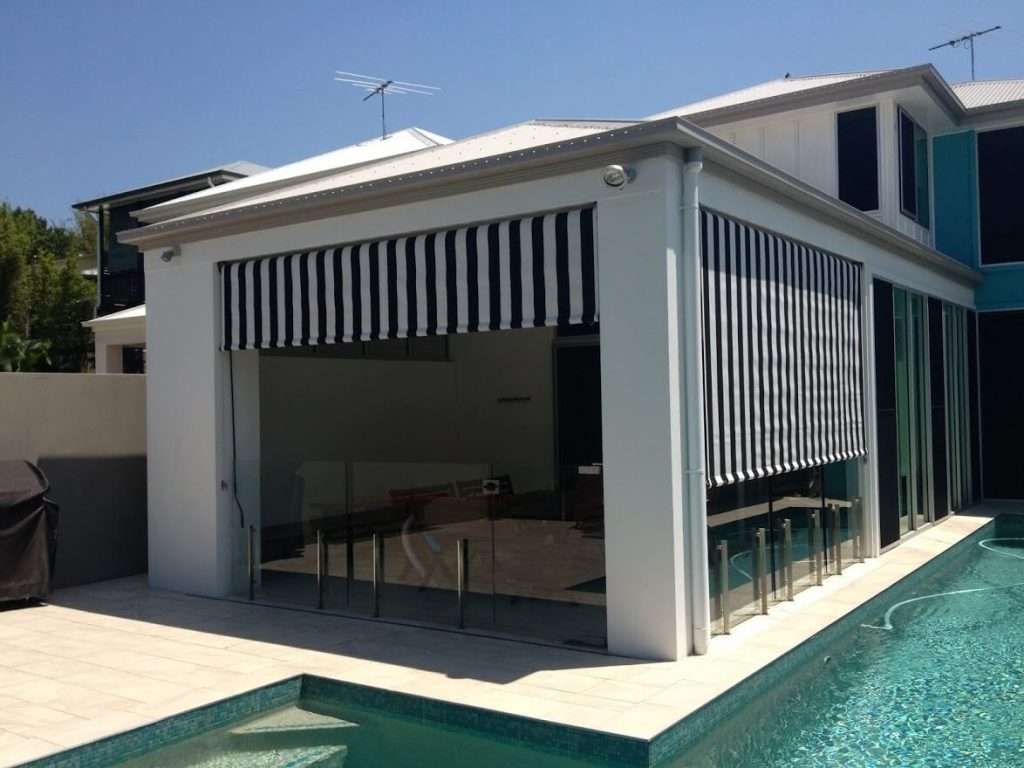 Why Choose Straight Drop Awnings?
Straight drop awnings are best for large, sparse openings where there may be a fence enclosing the perimeter of the open space. They are the ideal awning when glass fences have been installed around the external border of an outdoor area. The awning will drop on the outer side of the glass fence for a flush fit.   
A straight drop awning will protect wide spaced patios, alfresco areas and cabanas. They can also be installed adjacent to fencing and large glass sliding doors.   
Due to the style of these awnings, it's important to ensure a perfect fit which is only possible with a professional measure and install.  
Not only will straight drop awnings increase the value of your home, they will deliver protection by shielding the space from the sun. 
What is a Pivot Arm Awning?
A pivot arm awning extends away from the opening it is protecting. They can be installed on larger openings, but it's recommended a gear operated Robusta pivot arm is chosen with the application.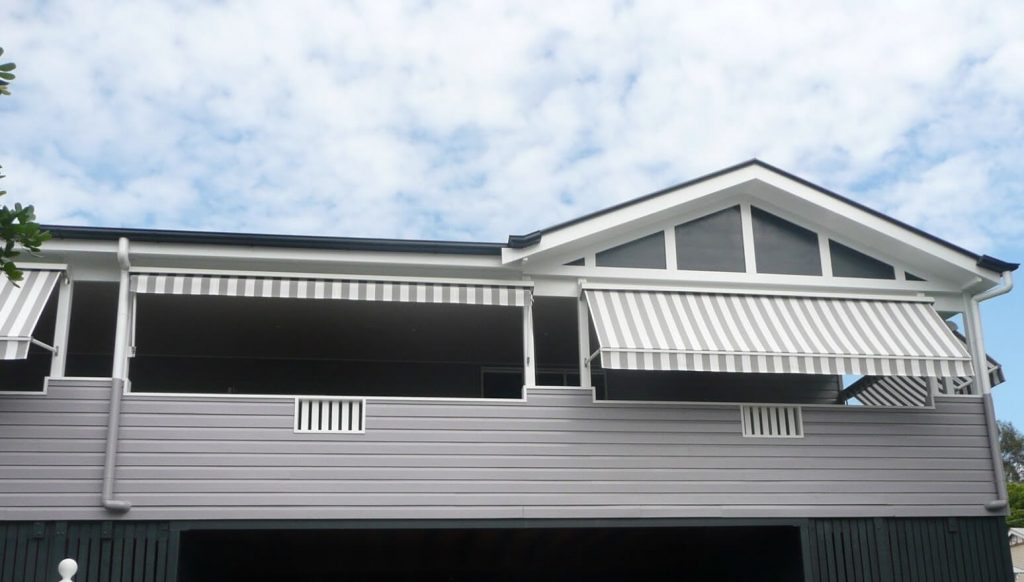 Why Choose Pivot Arm Awnings
Pivot arm awnings are best suited for second storey windows and outward opening windows. These awnings are controlled internally allowing complete control on light and privacy.  
Another benefit to pivot arm awnings is the projection of the fabric away from the opening allows air flow behind the awning. This can minimise heat build-up in the fabric.  
Pivot arm awnings are a popular style of awning chosen for Brisbane homes as their versatility and contemporary style suits many modern homes.  
For Hamptons and contemporary styled homes, pivot arm awnings offer an elegant look. Their prominent shape and external arm adds character and style to your home.   
Material choice for Straight Drop or Pivot Arm Awnings
Straight drop and pivot arm awnings come in a variety of materials which include mesh, acrylic, clear or tinted PVC, and canvas. The mesh and acrylic awnings come with a 10 year manufacturer's warranty.  
The most common repair for straight drop and pivot arm awnings on properties is damage caused by strong winds and storms. It's important to roll awnings up during these events to prevent damage and prolong their longevity. 
If you're after new awnings for your property and are not sure on the right style for your home, why not give the team at Blinds Plus Awnings and Shutters a call? With decades of experience in awning installations on Brisbane properties, we are the company to trust with your awnings needs.  
Whether you choose straight drop or pivot arm awnings, Blinds Plus Awnings & Shutters can help. To organise a measure and quote, call our friendly team today on 07 3287 9181