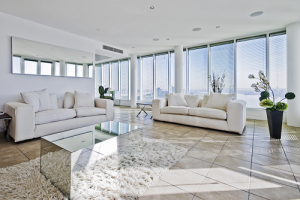 Choosing blinds, shutters and awnings for your Gold Coast apartment can turn your house into a home that is stylish and secure. The right selections can enhance the effortless coastal vibe of your abode while not sacrificing security or aesthetics. Privacy is paramount and the ability to shade your home from the sun (while letting you bask in golden rays when you want to) is vital when it comes to making this all-important choice for your Gold Coast home.
Automation adds a further sense of ease of access as you will be able to control when the blinds and shutters open and close. It's a way to trap in heat in winter and allow cooling breezes to flow in summer via the use of a single-touch remote control or sensors.
Your home is your sanctuary, a place to escape from the everyday hustle and bustle. Making these key choices will give you the ability to shape your home in a way that best suits your busy lifestyle.
Privacy is key. As you're designing the interior of your home to reflect your personality, blinds in Gold Coast apartments offer you the opportunity to create from a blank slate to give your home a facelift. It's an investment in your home that will provide you with comfort and the opportunity for quiet contemplation. Long-lasting, high quality blind choices can be made from the very best designs across the latest styles – a choice that's sure to suit all tastes and preferences!
Plantation shutters can add security to lower level apartments whilst maintaining a sense of charming aesthetic. These products can be adapted to both indoor and outdoor settings to maintain privacy and provide security as well as seamlessly fitting in with your design palette. These shutters are durable and will stand up against the harsh Australian climate.
Want to make the most of those beautiful views? Awnings often get a bad rap as being 'daggy' but choosing an on-trend design can mean that you can shade your views whilst creating a stylish and pleasant visage. The wide range of awnings on offer can match to your design vision without compromising on quality. You can work with our design team to match your awnings choices with hand-chosen products that speak to your sense of style.
Ready to explore your Gold Coast apartment's full potential? Call us today for a free quote!