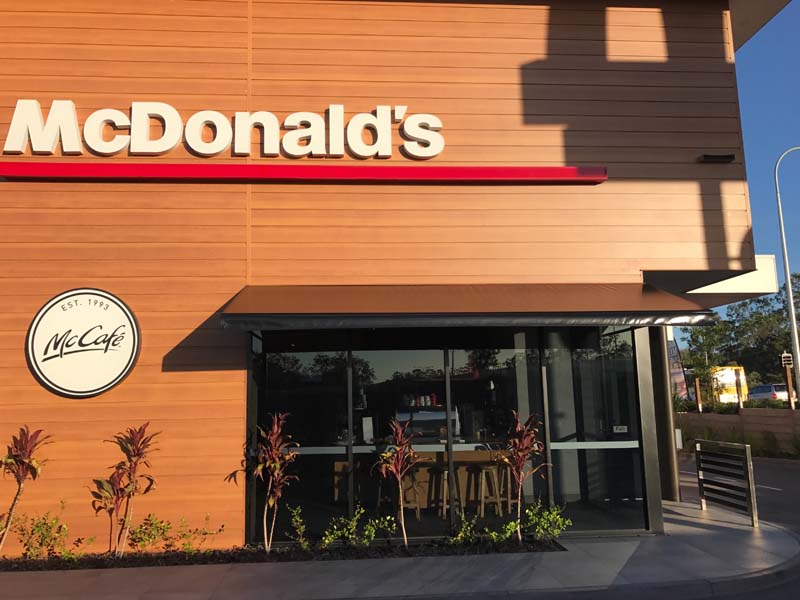 At Blinds Plus Awnings and Shutters, we LOVE the Gold Coast. We live and breathe those soothing, salty sea breezes and dig on the relaxed, coastal vibe. Over the last decades, we've been proud to really become at one with the area as we apply our expertise and market know-how to innumerable awnings projects.
When it comes to commercial awnings, Gold Coast businesses can be assured, we know what we're doing. And here's what you need to know.
Getting Your Commercial Awnings to work for you
They're not just sunshades (although that certainly does come in handy). Your commercial awnings present YOUR opportunity to really attract your market. There is nothing that's a bigger turn off than a shabby, dated fit-out at the front of your store. That is why you NEED to get ahead of the game and start seriously thinking about your street appeal. Our commercial awnings can provide a shaded seating area (if that's your thing) or bring a bit of eye-popping colour that freshens up your whole façade.
And that's the thing about the Gold Coast. It's an amazing place but it's so often about IMAGE. You are competing against a plethora of other businesses who have all the bells and whistles designed to create conversions. It's time to make sure that YOU stand out amongst the crowd. A brand-new commercial awning can do just that – bring a level of 'tres chic' to your business and give your whole exterior a brand-new lease on life.
Awning Reskins
Moving into commercial premises where there's an existing awning that's just… bleugh? We do awning reskins that will help lift that outlook from drab to fab. You can find out more here.
Fitting in with the Cool Kids
The Gold Coast is very hip, very now and you have to be VERY on trend to attract those summer crowds. From locals to tourists, everyone has a dollar to spend and you want to make sure that it's YOUR pocket those dollars are going into.
It's time to step up and get serious about the importance of street appeal. New commercial awnings on the Gold Coast are EXACTLY the way to go about it. Let's get ahead of the pack and give your business the facelift it needs to stay IN in the Gold Coast.
For commercial awnings, Gold Coast businesses rely on Blinds Plus Awnings. Inspired? Contact us TODAY to discuss your obligation-free quote.